Best Disposable Vapes to Try in September 2022
Sep 23rd 2022
The vape industry has been greatly influenced by disposable vapes in the past few years. Almost everybody has been intrigued by the attributes that disposable carry with them. The simple functioning, user-friendly interface, compact and portable design, and pre-charged and pre-filled mechanism make it effortless for vape lovers or newbies to carry out vaping. This ready-to-vape device is affordable too and thus, all these promising aspects have led various manufacturers to step into the world of disposable vapes. Despite being familiar with all the benefits that disposable vaping offers, it is quite challenging to choose the right brand that promises the most availing perks.
Factors to Keep in Mind Before Buying a Disposable Vape
The prime factor that usually arises in mind or should be considered when choosing the disposable vape is longevity. As we all are well aware of the fact that disposable vapes come with a puff bar limit; therefore it is essential to consider the ones that deliver large numbers of puffs. Moreover, vapers should know about the battery size as it plays a significant role in the longevity of disposable vapes. Subsequently, the prior generation of disposable vaping devices was not equipped with the rechargeable tendency. However, nowadays, the popular disposable vapes possess advanced charging technology. It allows them to get an instant recharge and this leads to a similar power punch and delectable taste till the device reaches its limit.
Another major factor that one should consider when it comes to buying good disposable vapes in 2022 is choosing a suitable flavor. We have already discussed above that the vaping industry now hosts several established manufacturers. And each of them offers a wide range of flavors to meet the taste preference of masses of vapers. However, it is quite intricate to suspect which flavor is best for you as these companies have different interpretations for specific flavor profiles. Therefore, it is highly recommended that you should rely on reputed brands as they offer assorted flavors with all of their products. As it would be simple for you to pick a suitable flavor if you have several options.
Besides, the aforementioned pointers to keep in mind while you look forward to buying the best disposable vape in 2022 will undoubtedly serve you. Furthermore, to add more convenience to your disposable vape shopping experience, we have gathered the information on the top 5 disposable vape brands that you should look up to in 2022 to avail the most benefits.
Top 5 Disposable Brands to Buy in 2022
ELF BAR
Elf Bar is one of the leading vape manufacturers that began its operations in 2018 to innovate the vaping industry. The brand is popular for its ultra-modern technology, and compact and chic designs to execute smart vaping. ELF Bar is also popular for its wide range of delectable flavors that help vapers to choose the one that suits their taste. The company has gained a massive following lately through its long-lasting disposable vape, the Lost Mary x Elf Bar OS5000 Disposable Device.
The Lost Mary x Elf Bar OS5000 Disposable is a futuristic disposable device featuring a massive 650 mAh rechargeable battery to deliver about 5000 long-running puffs. The device is compact, user-friendly, and has an integrated mesh coil to support multiple vaping styles. Moreover, OS5000 Disposable is pre-filled with a huge 13ml e-liquid to enjoy delicious vapors till its last puff. This smart vaporizer is draw-activated and comes in several flavors to enjoy favorite vapors all day long.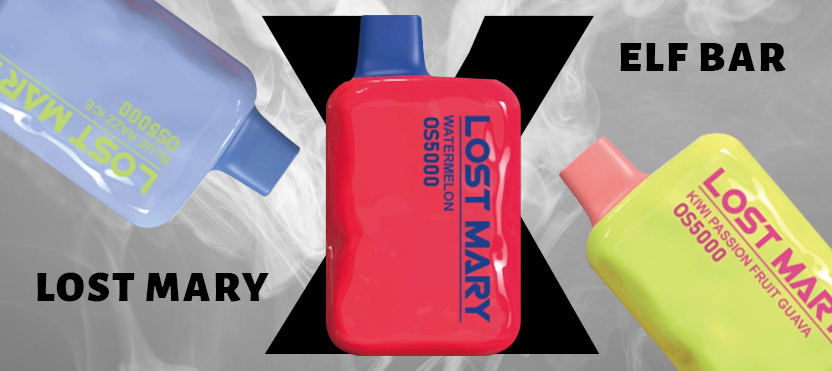 Specification
Puffs: 5000
Nicotine Strength: 5%(50mg)
E-Liquid Capacity: 13ml
Nicotine Type: Nic Salt
Battery Capacity: 650mAh
Charging Port: Type-C
Coil: Mesh Coil
Firing Mechanism: draw-activated
HORIZON
Horizon Binaries is a reputable e-cigarette manufacturer that started to change the world for vaporizers or e-cigarettes. Thanks to their perseverance and dedication, they have successfully acquired the trust of several vaping communities across the world. The company has attained massive recognition especially after they unleash their promising Cabin Disposable Device 10000Puffs. Ever since then, Horizon Binaries has become one of the most popular disposable vape brands globally.
The Horizon Binaries Cabin Disposable Device (10000 Puffs) is a powerful disposable vaporizer carrying about 10000 puffs. This elegant and palm-sized device features a dual mesh coil and a massive 20ml pre-filled e-liquid to ensure it never lacks in delivering the same delectable taste. The Cabin Disposable Device has an integrated 650 mAh rechargeable battery that supports Type-C charging to avoid interrupting power outruns. Moreover, this portable vaping solution has a draw-activated auto-firing mechanism and is available in a plethora of flavors having 50 mg nicotine level.

Specification
Puff: ~10000 puffs
Capacity: 20ml
Atomizing Core: 1.0 ohm + 1.0 ohm (Binary Mesh Coils)
Battery Capacity: 650mAh
SWFT
SWFT is a top-notch e-cigarette manufacturer based in Los Angeles, USA. The company believes in a client-driven ideology and has an aim of advancing the vape industry. SWFT has always been the utmost choice of vapers, thanks to their delectable flavor profile and futuristic technology that prompts smart vaping. Even though this company has been intriguing ever since its inception, however, it has obtained a huge celebration after it unleashed the SWFT MOD Synthetic Disposable Device-5000 Puffs.
SWFT MOD Synthetic Disposable Device is an ultra-modern disposable vape that tends to deliver around 5000 Puffs. The device features an integrated powerful battery that is rechargeable through a Type-C charging panel. And, it is equipped with draw-activation and mesh coil heating mechanisms to offer various vaping behaviors. SWFT MOD Synthetic Disposable is pre-filled with a 15ml pre-filled e-juice that contains 5% nicotine strength to support hard throat hits and dense clouds.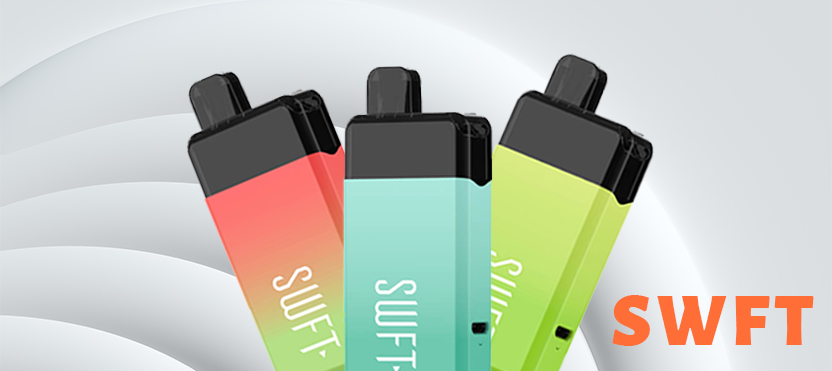 Specification
15mL Pre-Filled Synthetic E-Liquid
5% (50mg) Nicotine Strength
Recharge
Approximately 5000 Puffs
NAKED 100
Naked 100, this name speaks for itself, as it is one of the most celebrated disposable vape brands across the globe. This company has been considered the pioneer in shifting a mass of the vaping community from regular vaping devices to disposable ones. A major credit for this recognition must go to its innovation, the Naked 100 Max Disposable-4500 Puff.
Naked 100 Max Disposable-4500 Puff is one of the most sought-after disposable vaporizers in recent times. The device has a chic-sleek design, followed by intuitive functioning and a compact build that supports easy-to-carry mechanisms. Moreover, the Naked 100 Max Disposable features a 500 mAh battery that powers the integrated mesh coil having 1.2ohm resistance. This heating coil is ideal for executing multiple vaping styles such as frosty vapors, foggy clouds, or hard throat punches. Additionally, it has 10ml pre-filled e juice to support its long-lasting efficiency of delivering about 4500 puffs. NKD 100 Max comes in a wide range of flavors to tantalize your taste buds.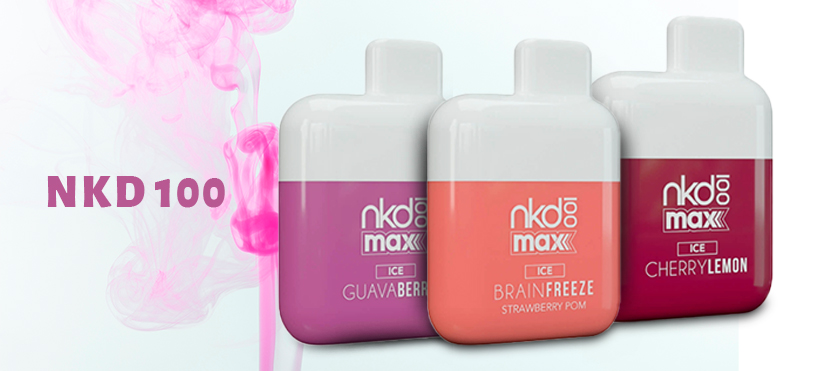 Specifications:
Puff Count: 4500 PUFFS
E-Juice: 10ML
Nicotine Strength: 50MG
Nicotine Type: Salt Nicotine
Hitt Vape
Hitt Vape is one of the most reputable names in the vaping industry. The company started its operations in 2018 with the mission of providing a top-notch vaping solution. Within a few years, they have succeeded in reaching this milestone and for the past few years, they have been improving the vaping industry through their innovative and smart vaporizers. Even though, Hiit Vape has been obtaining praise and recognition ever since it began, however, the company was immensely celebrated when it launched its advanced disposable vaporizer, the HittInfinity Disposable Device-8000 Puff
Hitt Infinity Disposable Device-8000 Puff is a revolutionary vaping solution that features an integrated Battery, Mesh coils, and Draw-activated mechanism. This promising disposable vaporizer has the potency to deliver 8000 puffs approximately. And the integrated mesh coil assures to offer dual vaping styles; freezing vapors or dense clouds. The infused e-liquid in this device has 5% nicotine strength to enjoy massive throat hits. Hitt Infinity Disposable Device-8000 is a convenient, portable vaping device that comes in a plethora of flavors to quench your thirst.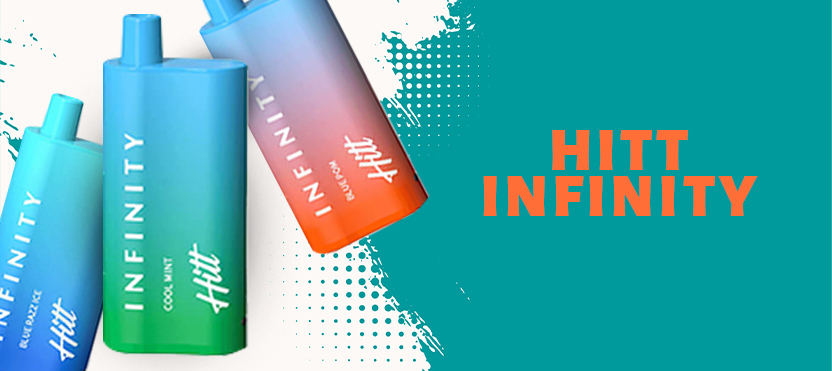 Specification
Approx. 8000 puffs
Rechargeable
20ml
5% Salt Nicotine
Conclusion
Amid globalization, Disposable vapes have become the most-sought variety of vaporizers. Arguably, disposables are more convenient, affordable, compact, and intuitive in contrast to regular vaporizers. The emerging demand for disposable vapes led to the establishment of several manufacturers. Therefore, it is challenging to choose the best brand of disposable vape for the most beneficial vaping experience. In this article, we have provided the top 5 best disposable vape brands that one should consider if they are willing to buy a disposable device. In case, we have forgotten to mention any reputable brand in our list, please let us know in the comments.